How To Make Your First $1,000 With Online Surveys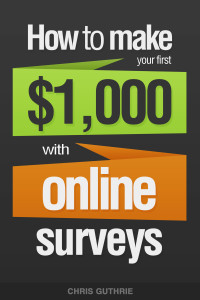 This book is dedicated to helping you get the most out of taking surveys online. In it you will learn, in specific detail:
My best survey taking tips like:

How to avoid spamming your inbox
How to never forget a username and password
Tracking your surveys
Taking surveys faster
and many more…

Which survey companies are the best to use
How to best combine these survey sites to make the most money for the least amount of time
This book is the ultimate guide to making the most money with online surveys. It is an accumulation of all the knowledge on Survey Chris, combined with exclusive tips and a survey taking strategy that lays out exactly the best way to make money with online surveys.
You can get the book on Amazon right now!
Here is the link: