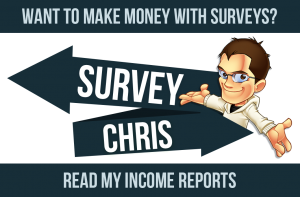 Every month I share an income report which outlines which companies I made the most money from by actually taking surveys along with the income I get from referring people to survey companies.
Unlike other survey websites that don't show proof of actually taking any surveys in every review I publish you'll find a screenshot or some proof that shows you I've actually made the money I said that I did.
I'm here to do the legwork for you.
I find the survey companies that are actually worth signing up for so that you don't have to. I appreciate when you use my referral link to sign up for these companies as it helps to validate the value I provide with my reviews.
Here are the companies I currently recommend
Survey Chris Income Reports:
Update: Why haven't I done income reports for 2015, 2016 etc?
I've been focusing most of my time on trying to find new companies and writing reviews. So I often spend far more time taking screenshots and writing reviews than I do spend on actually taking surveys. I like to take the number of surveys necessary to get a payout and then write my reviews.
If you'd like to learn more about how to make money from surveys please download my free eBook here.