FusionCash is an online survey and offer completion website. Before I get into how I made money with FusionCash, and how you can as well, let's get to the most important question first: Can You Make Money with FusionCash?
Yes. Sign up for FusionCash here.
Income Proof – My FusionCash Earnings: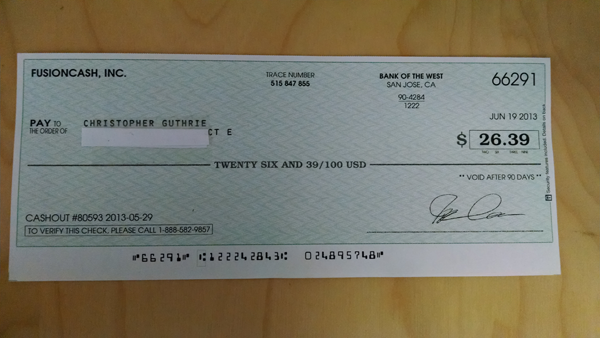 I only write reviews for companies once I've actually tried them out and been paid. That way you know that the review is based on my actual experience.
Bonus: If you'd like to get free survey taking tips and a list of my top recommended survey companies be sure to subscribe here. Let's continue on to my top tips for earning the most from FusionCash.
How To Make The Most Money From FusionCash – In Depth Review
I prefer to start of the survey reviews by covering the basics of the survey companies, such as how much you need to cash out, what kind of rewards they offer and any restrictions. After I go over that, I'll get into how to best use FusionCash to get the most money for the least amount of time.
Restrictions: 
Location: FusionCash only works in the United States and Canada:
Age: FusionCash members must be 18 years or older. However, if you are a US resident, you can participate if you are 13 years or older with parental permission.
Sign Up Process: The sign up for FusionCash is very simple. Just click this link here, then fill out the few questions and you're good to go. Also, you automatically get $5 bonus for signing up, which gets you a good jumpstart on your first cash out.
Payout Minimum: The payout minimum for FusionCash is $25, which is about average when it comes to survey companies. What I do like about the payout though, is that you have the options of either doing checks, direct deposit or PayPal. There are also no processing fees, which I have run into with other sites.
Their payout system works that you get approved on the 20th of the month after you request a cash out. Then you receive your payment 1-5 days after that, depending on which cash out option you choose.
Also, FusionCash asks that you verify your phone number in order to be cashed out, but as I've discovered, a lot of survey sites have to fight fraud constantly, so they use a legitimate telephone number to do so. I didn't receive any unsolicited phone calls after doing approving mine.
My Personal Survey Qualification Percentage: I will be honest and say that I don't have the biggest sample size for this since I made most of my money doing the offers, which I get into in a bit. However, I did try out some of the surveys, and surprisingly qualified for almost all of them. This was a higher rate than most sites, which was really nice.
Survey Invite Rate: The survey invite rate is pretty high, with receiving 1-3 surveys a day, on top of lots of surveys available through the dashboard. Like I mentioned above, I made most of my money with offers, but I did do enough surveys to find out that they are legitimate, and they do payout. With all these options, you will have a hard time running out of ways to make money on FusionCash.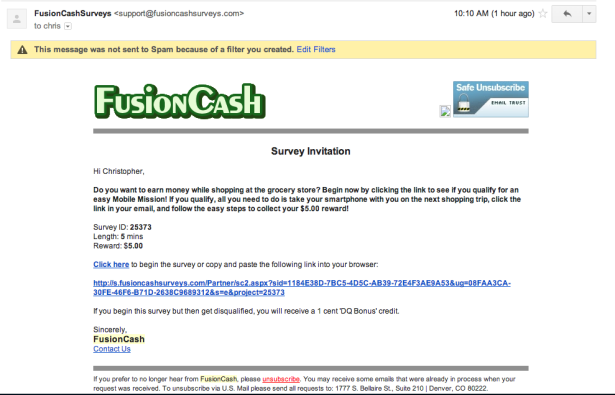 Is there a mobile app?: No, and I am surprised there isn't one, because they give you mobile missions. You have to go through your email and click the mobile mission link, but it is another way to make money with FusionCash. For example, I can get $5 just while grocery shopping.
The Best Way to Make Money with FusionCash
On the dashboard in FusionCash, you are shown a bunch of ways to make money. In my opinion, you should only spend your time on the offers within FusionCash. The offers are under the "Paid to Sign Up" tab, as you can see below.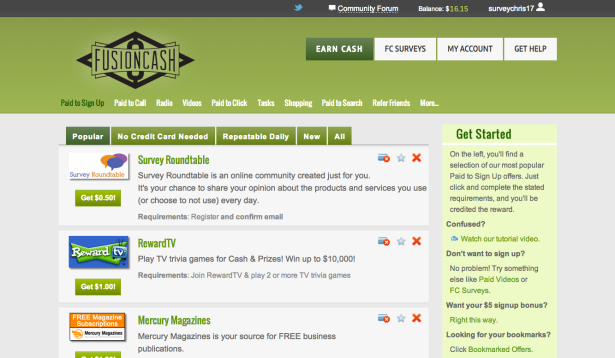 One of the benefits of FusionCash is that you can see all the requirements when it comes to signing up for these offers, such as needing to pay to sign up, or confirming your email (make sure you're using your special survey taking email, which I discuss here).
The higher paying offers often require that you purchase something, which is worth it if the service you are purchasing costs less than the payout. There are some offers available that are subscription based. These still work, but remember to cancel your subscriptions at the end of the month. If you forget to do so, you'll end up spending more than you were paid.
There are plenty of surveys available as well through the FusionCash dashboard under the "FC Surveys" tab in the top right. FusionCash will also send you 1-3 emails a day, so you will always have a way to make money with FusionCash.
One thing that I did not like about FusionCash is that the surveys that they directed you through are sometimes through other taking survey sites. This is a problem because you could just make more money signing up for those survey sites and then taking the surveys through them. This is another reason I stuck with the offers rather than the surveys when using FusionCash.
Overall Assessment of FusionCash
Pros
Is a legit, paying company
A variety of ways to make money
Pays out with Paypal (without fees)
Sends multiple surveys a day
Cons
A less quality version of PrizeRebel (See my PrizeRebel review)
It pays you less than actually going to the survey sites they refer you to
Conclusion
FusionCash is a completely legitimate way to make money online. I do recommend using PrizeRebel over FusionCash.
However, I do like to have multiple survey sites to use and FusionCash gives you a $5 bonus for signing up, so I completely recommend signing up for FusionCash.
Should You Join FusionCash?
Yes.
Do you have any questions about FusionCash or anything you'd like to add to the review? Let me know in the comments!
Advertiser Disclosure: We get a commission for some of the links on the blog. The opinions expressed here are the author's alone, and have not been reviewed, approved or endorsed by our partners.