Swagbucks is one of the biggest and most versatile websites when it comes to making money online. In this review, I'll answer the question, "is Swagbucks legit?", every option to make money, and show you the best strategies to get the most money for your time. But first, I'll answer the question you came here to learn.
Is Swagbucks legit and can you make money with Swagbucks.com?
Yes and yes. Sign up for Swagbucks here
Income Proof – My Swagbucks Earnings

I only write reviews for companies once I've actually tried them out and been paid. That way you know that the review is based on my actual experience.
Bonus: If you'd like to get free survey taking tips and a list of my top recommended survey companies be sure to subscribe here. Now let's get into how I earned these Amazon gift cards in the least amount of time possible.

How To Make The Most Money From Swagbucks – In Depth Review
Since I like to review these survey taking companies as in-depth as possible, I always start off with the basics. I will cover the restrictions, what kind of payouts you can expect, if they have a mobile app or not and topics like that. Then I will show you the best tips for using Swagbucks.
Restrictions: 
Location: Swagbucks is available in the US, UK, Ireland, Canada, and Australia
Age: Swagbucks members have to be 13 years or older
Sign Up Process: Signing up for Swagbucks is extremely simple. Click this link, fill out the information or join through Facebook, then confirm your email. You're ready to start earning Swagbucks right away and it costs nothing to join.
If you want to double your points when you sign up, make sure to read my article, 6 Tips to Get the Most Swagbucks When Signing Up.
Payout Minimum: On Swagbucks, you earn points, called SB, for everything you do. You can redeem those points for just about any gift card or even PayPal cash. The payout minimum depends on what you would like to do with your SB. You can donate them at as little as 5SB to Water Donation Drive. However, the most popular payouts are Amazon gift cards or Paypal cash.
When it comes the Amazon gift cards, it is best to cashout $25. There are options for gift cards as low as $3 (for 300 SB), but you only need 220 SB for your first $25 gift card every month (saving you 300 Swagbucks – enough for another gift card).
For Paypal cash, the minimum is 2,500 for $25. I almost always do Paypal, but since I use Amazon all the time, and had a chance to save Swagbucks I went with the $25 Amazon gift cards for my payout.
Ways to Earn Money: Swagbucks has the most ways to earn money that I have seen with any website. I am going to list them all out for you here, but below I will share with you which ones are the best and how to best use them.
Shop at your favorite retailers through Swagbucks
Use Swagbucks search
Watch video clips and trailers on your computer and phone
Play games
Answer opinion surveys
Discover trial offers (paid and free)
Daily Polls
Complete Tasks
Print and use coupons from their site
Install Swagbucks toolbar or extension (depending on browser)
Read online articles on Encrave
Achieve your daily goal of Swagbucks (Winning streaks earn even more. e.g. achieving your goal 7 days in a row)
Redeem Swag Codes
My Personal Survey Qualification Percentage: I only did a 3 surveys, and qualified for 2 out 3. This is way too small of a sample size to conclude anything. I explain below why I didn't do that many surveys.
Survey Invite Rate: I get invited to about 2-3 surveys a day through my email. However, through the site there are plenty more of surveys to do. But like I mentioned above, I focused my time on other ways to make money.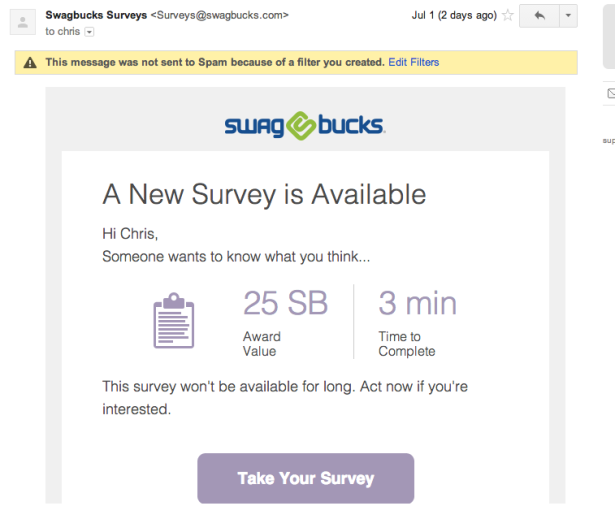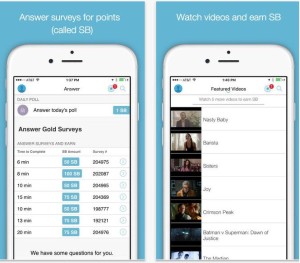 Is there a mobile app?: Yes there is a mobile app. Technically there are two mobile apps. One is just Swagbucks, which has almost all the features the website has.
This is great for earning SB on the go. If you are on the bus, waiting in the doctor's office or find a couple spare minutes anywhere, then you can be getting free cash and gift cards.
The second app available is Swagbucks TV, which is their video service available through a mobile app. This is a great app, and I'll show you a little trick below that helps me earn extra Swagbucks everyday.
These apps are available for Android and iPhone.
The Best Way to Make Money with Swagbucks
So now to the best part. I'll share with you the best way to use Swagbucks to earn the most for your time. One thing to keep in mind during all this is that the little things add up. I will show you how to make a lot of Swagbucks all at once (I made 1,300 in 3 days), but don't ignore the small things that will add up.
First things first, sign up to Swagbucks to earn a few points. After you sign up and confirm your email, you can start earning points by registering for the features on the site. This will be the first page that comes up, so just continue filling everything out.
After registering for everything, you will be directed to fill out profile surveys. Do this. I always recommend filling out the profile surveys for every survey taking site, because this saves you time in the long run. They use these profile surveys to direct surveys to you that you are more likely to qualify for.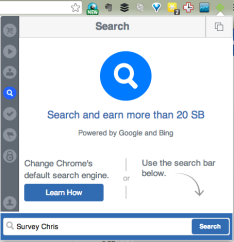 Swagbucks Search
So now you are signed up, registered and have your profile filled out. You should now install the SwagButton into your browser. You get 50 SB for simply installing it, along with giving you way more opportunities to make SB's and save time.
Make sure to begin to develop the habit of always searching through the Swagbucks search option. You will not get Swagbucks everytime, but you will win every once and a while and you are not losing anything by doing so.
You can win up to 38 SBs with one search, although I have only won 7. Don't waste your time unnecessarily searching terms. There are much better ways to spend your time.
Daily Swagbucks Activities
Everyday there is a new Daily Poll, a "Daily Crave" and Daily Offers. The daily poll is straight forward and it only takes a second to vote and earn 1 SB.
With the Daily Crave, you earn 2 SB just for visiting an article and saying whether you enjoyed it or not.
For the Daily Offers, you are shown a certain number of offers that you can either sign up for or skip. All you have to do is make it through every offer, usually no more than 10 total, choosing to submit your info or skip it, and you earn 2 SB. Remember, it is that small things that add up.

Swag Codes
Swag codes are one of the easiest ways to earn money with Swagbucks, especially if you have the Swagbutton installed. I get notified by my button and the mobile app on my phone every time a new Swag code goes live. The toolbar and app will tell you where to look, such as their Instagram, Twitter or Facebook.
You simply head over there, find the code which is usually in their latest post, and then type it in on swagbucks.com, into the toolbar, or the app. It's a simple way to earn a couple SBs a day.
Swagbucks Watch
Swagbucks has a YouTube like section of their website called Watch. There is also the Swagbucks Watch mobile app, which I recommend getting. These are options to earn up to 500 SB each day.
The best part is that you can open Swagbucks Watch in a separate tab, put it on mute and then go about your business. You have to check back to keep playing videos, but the amount of work for the SB earned is a good return.
There are also some interesting videos on there that you might want to watch, like recipes and news stories.
With the mobile app, if you are connected to wifi or have unlimited data, I recommend plugging your phone into a power source and just have SBTV running on your phone. It is that easy to earn Swagbucks TV app.
Also, if you are looking for a movie trailer or news story, it doesn't hurt to check Swagbucks TV first, so you can earn money while watching.
Swagbucks Discover
Swagbucks Discover is how I made the most money with them. There are a variety of offers, both paid and free that give you the absolute best return on your time. The paid offers have the best payout, but make sure you follow my tips to make sure you are coming out on top when using them.
First, do the math of the paid offer. If each Swagbuck is about $.01, then you should only do offers that offer you more money then you would spend.
For example, I did this Audible.com offer and will let it run for the first two months (use your calendar or phone to set up reminders to cancel reoccurring payments). Although it will cost me $2, I get 800 SBs, which is a $6 return on my investment. Also, I like books, so I don't mind taking advantage of the service also.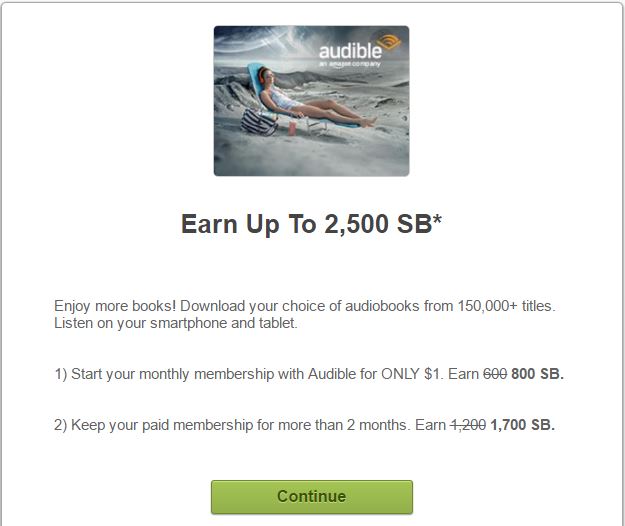 There are many others like this as well. My best return was spending $5 and getting 880 SBs. The paid offers tend to often only take a minute to sign up, which is why I like the return for time spent on them.
There are also good free ones, you just have to search a little harder for those. The offers are available on the home page or under the discover tab. Both places are good to look for offers.
Swagbucks Paid Surveys
Swagbucks does offer paid surveys like most of the other sites I reviewed. While the offers are a much better return for your time, there are some good paid surveys to take.
I would recommend spending your time more on Discover, but if you need some extra Swagbucks to reach your daily goal and can't find any offers, then taking the paid surveys is the next best option.
Swagbucks Coupons
Swagbucks Coupons is something you should definitely be taking advantage of. The best way to do so, is before you go to the grocery store, pull out your grocery list and check if there are any coupons for items you need. Print them off and then take them with you. It is simple as that to keep earning while you do things you would be doing anyways.

Swagbucks Daily Goals & Winning Streaks
When you first sign up for Swagbucks, make sure to turn on daily goals in the left sidebar. This will just give you a goal to reach, and if you do so, you are awarded a 10% bonus of your Daily Goal. If you hit multiple goals in a row, you get even more Swagbucks.
If you hit your starting goal of 30 SB a day, you get a new goal to hit, and an even bigger bonus if you reach it.
If you want to get the most out of Swagbucks, using it everyday is the best way to do so. You'll get bonus Swagbucks for hitting your daily goal, get bigger bonuses for winning streaks and you will be well on your way to $25 with just a few minutes per day of effort.
If you take advantage of those 2 aspects of Swagbucks, and average 100 Swagbucks a day, you will earn an extra 610 SB. Not bad for a monthly bonus.
Swagbucks Shopping
Swagbucks shopping is pretty straight forward. If you are looking to buy something online, just make sure to check their store first. There's no reason to not purchase something through them when you can get cash back on it through Swagbucks.
Swagbucks Mobile
Swagbucks Mobile is something you can use everyday whenever you find a spare minute and you're not at your computer. It is an easy way to reach your daily goal while on the go. It has almost all the features that the website has, and is only going to get better.
They don't have Swagbucks play on the mobile, which I think would be a good addition since people like to play games on their phones.
Don't forget that Swagbucks TV is on mobile as well, so take advantage of that as well.
Swagbucks Tasks
Swagbucks Tasks are under the Answer tab at the top. You simply go in there, click on a task and then follow the directions. I would not go through and do all of them, but there are a few that have good return for the time spent. These ones typically are worth 1-3 Swagbucks.
I wouldn't spend time doing any worth less than 1 Swagbuck, because then you are literally making less than $.01 for a task. That's not a good way to be spending your time.
Swagbucks Activities Not to Spend Time On
Swagbucks Play
One thing I have noticed while looking around at other reviews of Swagbucks is that everyone recommends playing the games. While the games are a fun way to earn Swagbucks, the return on time spent is one of the worst available options on the website.
You have the option to play games for free, which will sometimes get you a couple Swagbucks. The time spent on the game for the possible return of 2 Swagbucks is not as good a return as doing the offers.
Another option through Swagbucks Play is to participate in tournaments. I wouldn't recommend this for a few reasons.
First, you have to pay an entry fee that you are unsure of getting a return on. You don't know who you are playing against, so you may lose Swagbucks.
Secondly, the return on most of the tournament offers isn't that good even if you do win. If you pay a 15 SB Entry and do get 1st, you may only win 5 SB for a long time spent playing the game.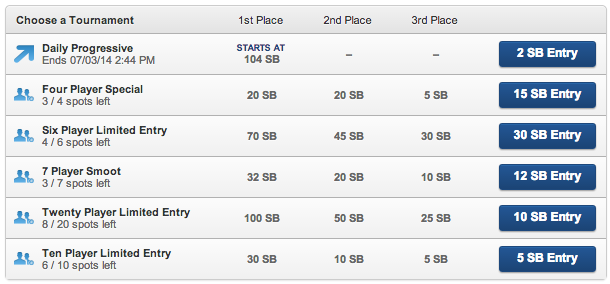 However, if your main concern is playing games rather than earning Swagbucks, then you might as well play through Swagbucks.com and earn while you do.
Swagbucks Encrave
Swagbucks Encrave gives you Swagbucks for reading articles and watching videos. For me, the articles are not the highest quality and the payout is not very good for the time spent, so I don't use it. I'd rather be filling offers with good returns or taking high paying surveys.
Swagbucks Sweepstakes
Swagbucks offer sweepstakes that cost Swagbucks to participate in. I don't like giving away my Swagbucks for things that are unsure. Swagbucks is a large website with a lot of users. While it is completely possible for you to win big, it is statistically unlikely.
Overall Assessment of Swagbucks
Pros
A legit, paying company
Many options for making money
Has offers (always one of the best ways to make money)
Has a variety of payouts, including Paypal and Amazon
Is available to teenagers
Is available in 5 countries
Has a mobile app
Gives high bonuses
Well designed and fun to use
Cons
With the variety of options, it is possible to get lost in activities that don't pay well. (That is if you don't follow my advice)
Conclusion
Overall, I completely recommend Swagbucks. It is one of my favorite websites to make money with. It is important to note that with the variety of options, that it is completely possible to lose money with Swagbucks. But if you read and follow all of my tips, then you will be coming out on top.
Don't forget to see how to double your sign up bonuses here: 6 Tips to Get the Most Swagbucks When Signing Up.
Also, here is a bonus article for you: My Schedule for Getting the Most Swagbucks Everyday
Should You Join Swagbucks?
Yes.
Do you have any questions about Swagbucks or anything you'd like to add to the review? Let me know in the comments!
FYI I updated this review in 2017 with the following changes:
– Removed mention of Swagbucks Accelerator program (no longer exists)
– Removed mention of Swagbucks Credit card (no longer exists)
– Made some updates to various SB values that have changed
– New images to reflect current offers
FYI I updated this review again in July 2018 with a few smaller changes and link fixes
Advertiser Disclosure: We get a commission for some of the links on the blog. The opinions expressed here are the author's alone, and have not been reviewed, approved or endorsed by our partners.