Swagbucks is one of my favorite websites when it comes to making money. In this article, I'll show you the exact way that I earn tons of Swagbucks when signing up. Most people don't follow this process and leave tons of Swagbucks on the table when signing up.
If you need an overview of what Swagbucks is and how you earn with them, make sure to read by extremely in-depth review of Swagbucks here:
Is Swagbucks Legit? My Swagbucks Review
Now lets show you the secrets to doubling your sign up Swagbucks.
What to do when you sign up for Swagbucks

Well if you haven't signed up for Swagbucks, that is the absolutely first step and the first way to earn Swagbucks.
1st Step
So once you are fully signed up, and have confirmed your email, you'll be taken to a screen that looks like this.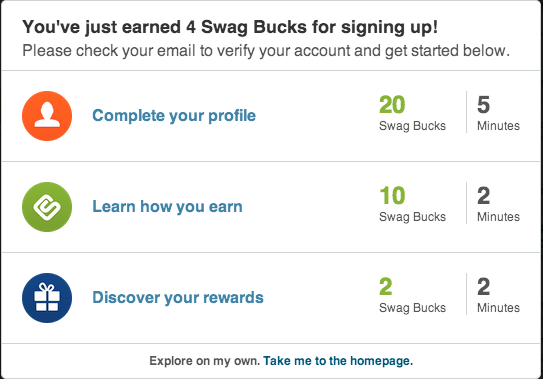 Do not fill these out yet.
Although it looks like a great way to earn some quick Swagbucks, and it is, I'll show you really quickly how to double them. So click on "Take me to homepage" instead.
The first thing you want to do is to sign up for the Swagbucks Accelerator, which is located at the bottom of the page. It is under "Ways to Earn".

Sign up for the highest amount offered. If you really want to make the most money on Swagbucks, you will do this. You can always cancel it if you don't think you will get your money's worth. However, I am able to get my money's worth following the exact details I'm laying out for you now.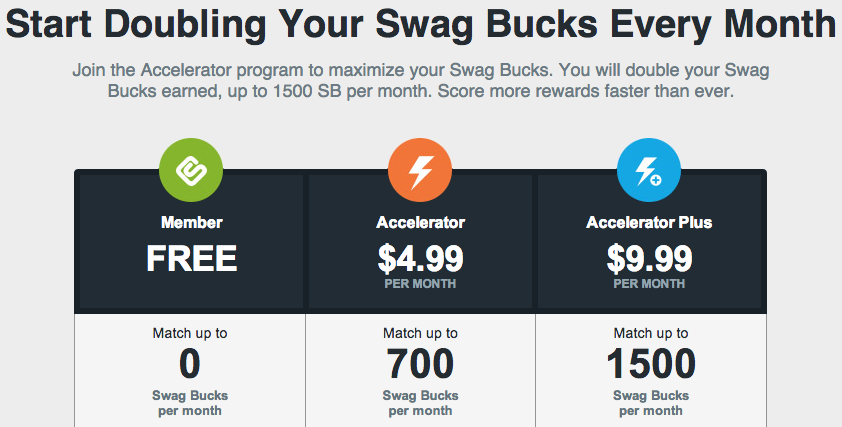 Since every Swagbuck is worth around $.01, the top plan in the Accelerator program will earn you an extra $5 per month. If you do this every month for a year, that is an extra $60 for the year. Not a bad bonus for simply using Swagbucks.com.
2nd Step
Ok, now that you are doubling your Swagbucks up to 1500, let's start getting as many Swagbucks as possible. Now you should enable the Daily Goal feature. It is located on the dashboard in the left sidebar.
This is simply a goal that Swagbucks gives you everyday to hit. If you hit it, you earn a bonus and they give you a new goal to hit with a bigger bonus. As long as you continue hitting your first goal everyday, you can start getting Winning Streaks.
These Winning Streaks are easy ways to earn extra Swagbucks. If you hit your bonus everyday for a month, that will earn you at least 700 Swagbucks (Daily Goal bonus + Winning Streak Bonuses). That's an extra $7 a month, simply for using Swagbucks everyday.
Add that in with the Accelerator, and you're already at a $13 bonus each month. I'm sure you can already see why Swagbucks is one of my highest recommended websites for making money.
3rd Step
So now that you have all the bonuses features set up, you'll want to start passively earning Swagbucks using Swagbucks Watch and SBTV. Swagbucks Watch is an option at the top of the screen on the dashboard. All you have to do is open that up in a new tab, click a video to play and turn off the volume.
It takes watching multiple videos to earn Swagbucks, but you can just let the video play out while you switch tabs back to Swagbucks dashboard to continue earning. All you have to do is check back every couple minutes to click on a new video. Simple as that.
SBTV is the Swagbucks TV app. You can get it both for iPhone, and Android. As long as your phone is plugged in, on wifi or an unlimited data plan, you should always have it playing SBTV. It works similar to Swagbucks Watch, except that it automatically plays a new video once one ends. Just check it periodically to make sure it is still going.
While you are downloading SBTV on your phone, make sure to get the Swagbucks app as well. They are two separate apps that can both earn you SBs.
4th Step
Ok, now that you have set up your Swagbucks bonus features and you're passively earning Swagbucks from Swagbucks Watch and SBTV, it is time to fill out the profile surveys and register for all the Swagbuck features that I told you to skip in step 1. First, go in and upload of photo of yourself in "My Account". This earns you and easy 2 SBs. Now go to "Answer" on the top menu, then click "Paid Surveys". This will take you to a page that has a bunch of things to sign up for.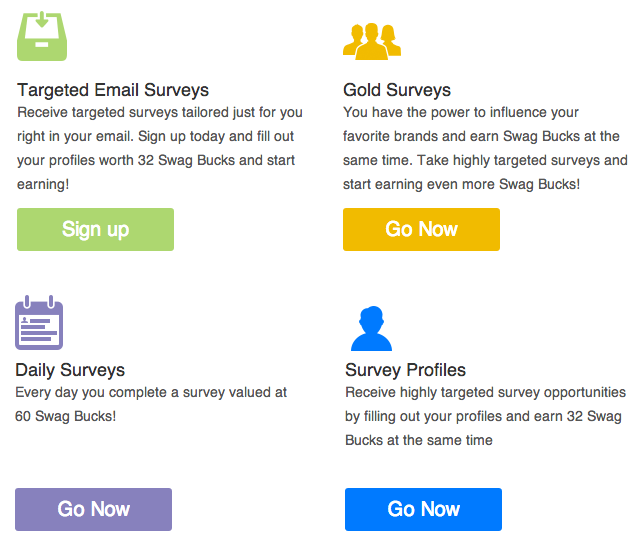 First, fill out the Survey Profiles. Not only will this earn you Swagbucks, but it will help Swagbucks send you surveys that you are more likely to qualify for. This is extremely important, as you don't want to waste time constantly getting screened out of surveys.
After you have filled all of those out, Sign up for the Targeted Email Surveys. You'll get 32 SB and get access to surveys that will make you SB.
5th Step
Now you will want to install the Swagbucks Toolbar/Extension (depending on browser). I personally prefer Chrome, so I have the Swagbucks extension.

Installing the toolbar/extension earns you 5 SB, and you get 1SB everyday just for having it.
6th Step
Like Swagbucks on FB and invite your friends. Liking Swagbucks will earn you a quick 5SB (actually 10 with the Accelerator) and if you're friends sign up, you earn 10% of all the Swagbucks they earn.
The Best Way to Earn Swagbucks Everyday
Now you are all set up on Swagbucks in the most effective way possible. If you have followed every step so far, you have not only hit your daily goal, you have doubled every Swagbuck earned, and are currently earning Swagbucks from SBTV and Swagbucks Watch. Good work.
Now you need to focus on earning tons of Swagbucks everyday. Fortunately, I have created the ultimate guide for doing so.
The Ultimate Guide for Earning Tons of Swagbucks Everyday.
If you haven't already, make sure you click here to join Swagbucks

If you have any questions, let me know in the comments. I'm happy to help.
Advertiser Disclosure: We get a commission for some of the links on the blog. The opinions expressed here are the author's alone, and have not been reviewed, approved or endorsed by our partners.