Ipsos i-Say is an online survey site run by a division of Ipsos, one of the world's largest online marketing research companies.
Before I get into the details, let me answer the main question when it comes to survey websites
Can You Make Money With Ipsos i-Say?
Yes. Sign up for Ipsos i-Say here.
Income Proof – My Ipsos i-Say Earnings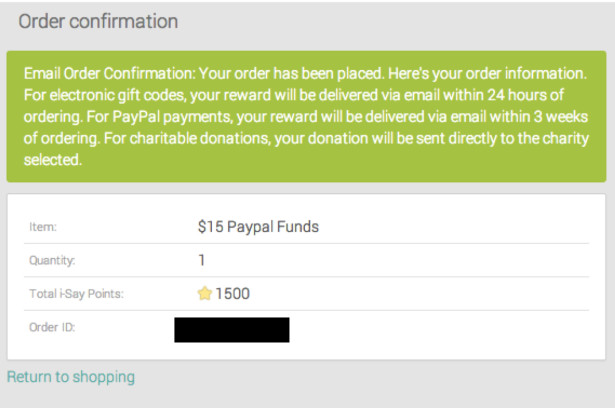 Note: Ipsos is temporarily paused to new signups. For now, I recommend you sign up for these alternatives:
Swagbucks, Opinion Outpost and PrizeRebel
I only write reviews for companies once I've actually tried them out and been paid. That way you know that the review is based on my actual experience.
Bonus: If you'd like to get free survey taking tips and a list of my top recommended survey companies be sure to subscribe here. Let's continue on to my top tips for earning the most from Opinion Outpost.
How To Make The Most Money From Ipsos i-Say – In Depth Review

Before I show you how to best use Ipsos i-Say to get the most money for the least amount of time, I'll go over the basics, such as restrictions, payouts and how to sign up.
Restrictions: 
Location: Ipsos i-Say only works in the United States and Canada. However, they have a very similar website for European Countries called Ipsos Access Panels. Here are the region specific links for signing up for Ipsos i-Say:
Age: There are no age restrictions for Ipsos i-Say.
Sign Up Process: To join Ipsos i-Say, click this link and then either register with Facebook or fill out the information form and then check your inbox for an email confirmation.
Payout Minimum: Ipsos i-Say is pretty typical when it comes to the payout minimum. You can either exchange 1000 points for a $10 gift card to Amazon or iTunes, or wait until you get 1500 points and exchange it for Paypal or a Visa prepaid card. However, I provide the best option for Payouts below, so read all the way through.
As you can see from my payment confirmation above, you can receive the electronic gift cards within 24 hours, or get the Paypal or Visa prepaid card within 3 weeks. This is the usual payout timing across survey taking sites.
Also, I should note that you can only send Paypal rewards to the email address you have signed up for Ipsos i-Say with. However, you can get around this by adding your specific survey email address to your Paypal account. Simply login to your Paypal account, go to "profile", then "update email", and you can add it in there.
My Personal Survey Qualification Percentage: I qualified for roughly 80% of the surveys I tried to take. This a pretty good rate for survey taking websites. It was also good that i-Say did not take long to screen me out of a survey, it was typically less than 2 minutes. For each survey I didn't qualify for, I received 5 points.
Survey Invite Rate: Ipsos i-Say provides a ton of surveys through email. On weekdays I would receive anywhere from 4-8 surveys, and on weekends I'd get 1 or 2.
Getting that many surveys became really useful, because for some reason i-Say has a problem with the surveys on the dashboard not refreshing. So sometimes you will try to do a survey, and find out you have already done it. This only happened to me a few times, but it was still nice to have a stockpile to go through in my inbox.
Is there a mobile app?: Yes, but you have to be specifically invited by Ipsos to use it. I was never invited, so I cannot tell you how good it was. However, the Ipsos i-Say website does work very well on a cell phone, which is nice if you want to do surveys on the go.
Loyalty Program: Ipsos i-Say offers something that I haven't seen on many sites, and that is a loyalty program. This a great benefit, and is one of the reasons why i-Say is one of my favorite survey sites.
As you can see, the more surveys you take with Ipsos i-Say, the better. If you take 200 surveys with them within 1 year, you get an extra 600 points. That's less than 4 surveys a week.
The Best Way to Make Money with Ipsos i-Say
As with every survey company, there are pros and cons to the website which also means there are certain strategies you should use on each site to get the most out of it. When it comes to Ipsos i-Say, one of the best ways to make money with them is to first take surveys in their dashboard.
The reason you want to start with surveys in their dashboard is because they show you right away how many points they offer and the estimated time it will take to do the survey.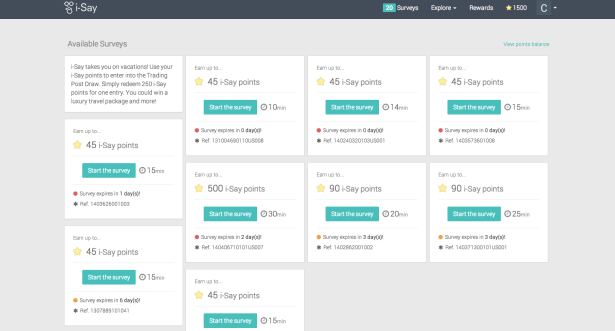 Typically, the surveys are 45 or 90 points, ranging in estimate time from 5 minutes to 35. The surveys that offered the most points for the least amount of time were 45 point surveys estimated at under 10 minutes and 90 points surveys estimated at under 20 minutes. Every once and a while you come across high paying surveys for 150 points, which are definitely worth it.
Also, as you can see in my survey notes below, I usually came in well under the estimated time. My best was 90 points that was estimated for 20 minutes, and only took 1.5 minutes.
Like I mentioned earlier in the post, Ipsos i-Say did have a problem with not refreshing the surveys in your dashboard. This would have been a major problem if I didn't have so many emails piled up in my inbox from them. The only problem with these emailed surveys is that they don't tell you the points and estimated time from the start.
After clicking the get started now, about 75% of the emails take you to a screen giving you the information on points and estimated time, the other ones jump right into the survey. Only take surveys if you know the points and estimated time. You don't want to take a long survey and end up only getting a few points.
Another important tip for Ipsos i-Say is to hold out for the highest Paypal reward. While I understand the want to cash out as soon as possible, the reward gets much better when you get to the highest tier.

As you can see, the points to dollar ratio becomes much better at this high level. This, combined with their loyalty program, means that the longer you use Ipsos i-Say, the better it gets and the more you money you get for your time.
Want to see my specific survey results?
Your results will likely vary, but as you can see below most of the surveys I took were completed in a lot less time than was advertised:
Overall Ipsos i-Say Review Assessment: Should You Join?
Yes.
Do you have any questions about Ipsos i-Say or anything you'd like to add to the review? Let me know in the comments!
Advertiser Disclosure: We get a commission for some of the links on the blog. The opinions expressed here are the author's alone, and have not been reviewed, approved or endorsed by our partners.