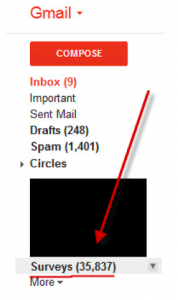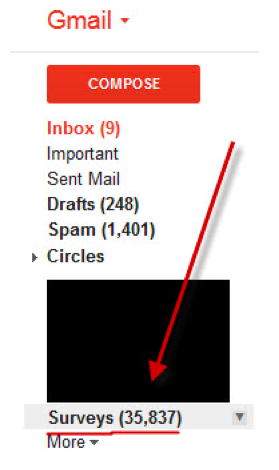 When it comes to making money with surveys, there are certain tricks that you should be using the get the best experience out of them. Along with reviewing survey taking websites and telling you how to best use each one, I will be giving you general survey taking tips.
I'm hoping that these tips will make it easier for you take make money from survey websites with less time and less headache (such as an inbox clogged with thousands of emails).
When it comes to making money with survey sites, the first thing you should do, even before signing up for survey companies is to create a second email address for surveys.
If you use your personal email, you will end up with tens of thousands of emails filling up your inbox.
Thankfully, it's simple to avoid this problem, and I'll show you exactly how to fix it below.
How to Avoid Clogging Your Inbox

I use the email address chris[at]surveychris.com to signup for survey companies – don't email me at this address or I won't see it.
Then in gmail, I set up a filter for every email sent to chris[at]surveychris.com and have it sent to it's own folder called "Surveys".
The first step to setting this up in Gmail is to create a label called "Surveys". To do this, go into the settings, click on the "Labels" tab, scroll down to the "Labels" section and select "Create new label."

After creating the lable "Surveys", head to the "Filters" section and set up a filter for every email sent to your special survey taking email address. In the options, make sure to "Skip the Inbox (Archive)" and to apply the label I created called "Surveys."
Then I check the box "Never send it to Spam", so I avoid losing any surveys sent to me.
Keeping all the spam will lead to a ton of emails in your "Surveys" filter, so when you go into your filter to look for surveys, just search by the survey company name that you wish to use. This will allow you to see every survey they have sent to you, while avoiding the spam emails.
This is what my filter setup looks like: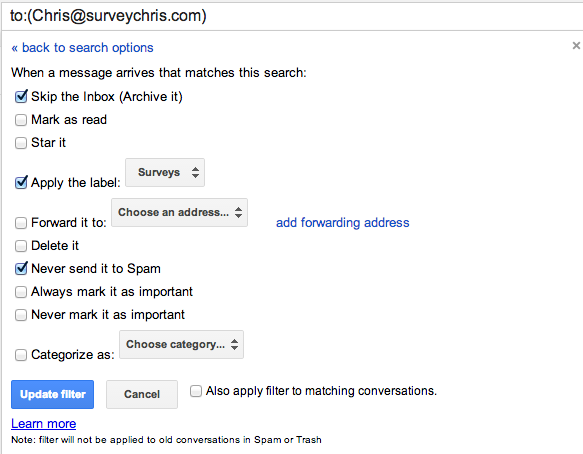 Now every email that I receive from the survey companies skips right past my inbox and into my "Surveys" tab.
Don't Have a Second Email?
If you don't have a second email to use, there is a simple trick that allows you to still set up your Gmail like I have above.
If your email address was [email protected] then you could use the email address [email protected]. These emails will still come to your [email protected] address. Make sure the + symbol comes after your gmail address, or else it won't work.
Then simply follow the steps above for creating a filter for [email protected], and making sure it goes to your label called "Surveys".
Want to get more survey taking tips? Make sure to get the insiders guide here.
Advertiser Disclosure: We get a commission for some of the links on the blog. The opinions expressed here are the author's alone, and have not been reviewed, approved or endorsed by our partners.