Opinion Outpost is one of the best survey sites I have come across, for a number of reasons that I will cover in this review. So as you may have already guessed, here is the answer to the question you are wondering:
Can you make money with Opinion Outpost?
Yes. Sign up for Opinion Outpost here.
Income Proof – My Opinion Outpost Earnings


I only write reviews for companies once I've actually tried them out and been paid. That way you know that the review is based on my actual experience.
Bonus: If you'd like to get free survey taking tips and a list of my top recommended survey companies be sure to subscribe here. Let's continue on to my top tips for earning the most from Opinion Outpost.
How To Make The Most Money From Opinion Outpost – In Depth Review
I'll start off this review with covering the basics, such as the sign up process, the payout minimum and more. After that I'll get into how to best use Opinion Outpost to make the most money in the least amount of time.
Restrictions: 
Location: Opinion Outpost only works in the United States, Canada and the UK. Unfortunately, they are not a completely global company. Each country has it's own website to work with.:
Age: You can sign up for Opinion Outpost as long as you are 13 years or older.
Sign Up Process: To join Opinion Outpost, click this link and then enter your personal information, such as your name, sex and your special survey taking email address (which I talk more about in my free survey taking tips).
After confirming your email address, you'll be directed back to the site to fill out some member profile surveys. Make sure to be honest with these, as they will help you be directed towards surveys you are more likely to qualify for.
Payout Minimum: Opinion Outpost is one of the best companies when it comes to payouts. There is a 10o point minimum to cash out for $10 via Paypal and they instantly give it to you. This is awesome considering some companies take several weeks to payout, and some still pay with checks. As you can tell from the pictures, I cashed out the 332 points for an instant $30 into my Paypal account.
Other notable minimum payouts that are available are MileagePlus Award miles, which you can get 300 miles for 105 points, along with a $5 Amazon gift card for 50 points. I prefer to get the cash, but if you wanted to get rewarded as soon as possible or needed some extra airline miles, these are good options.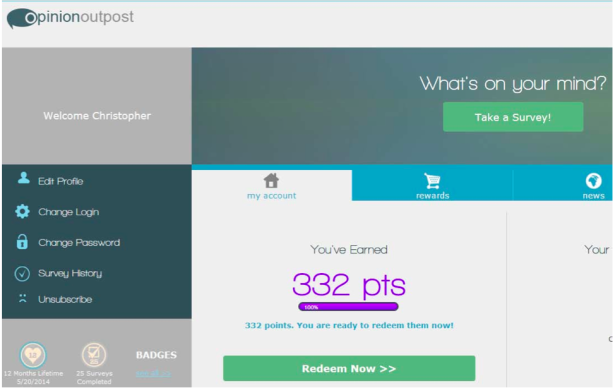 My Personal Survey Qualification Percentage: I qualified for roughly 80% of the surveys I tried to take. This is a pretty high rate compared to some of the companies I have tried out. Also, it never took me more than 90 seconds to get screened out of a survey, which is a huge plus. Some companies, which I will have reviews coming out for, take a lot longer than that to screen you out. If you end up not qualifying for a survey with Opinion Outpost, then they enter you into a quarterly drawing for $10,000.
Survey Invite Rate: Opinion Outpost emails me about 2 surveys a day, but have around half a dozen surveys available for you through the member's homepage. I explain below why you should only focus on the surveys that get emailed to you.
Is there a mobile app?: No. However, their website is designed to fit well onto any size screen (Iphone, Ipad, Android, etc). So while they don't give the convenience of a dedicated mobile app, their website and surveys are very functional when viewed on your phone or tablet. This will you can fill your spare minutes with taking surveys.
The Best Way to Make Money with Opinion Outpost
When it comes to taking surveys with Opinion Outpost, you can access them through the membership area on their website along with getting emailed about 2 surveys a day. Only take the surveys that are emailed to you. The surveys accessed on their website dashboard are not labeled with point values and the time required to take them. This means you could take a long time to take a survey and only get a small amount of points, which you wouldn't know until the end.
You will also be offered surveys that get you 1 entry into their $10,000 cash giveaway. I personally would not spend time on this. The sweepstake chances are extremely slim. You'd be better off working towards the $10 payout.
Since Opinion Outpost only emails you 2 surveys a day, I recommend signing up for multiple survey companies so you never run out of surveys to take.
The surveys that get emailed to you show the points and the estimated time they will take. They typically range from 5 to 30 points.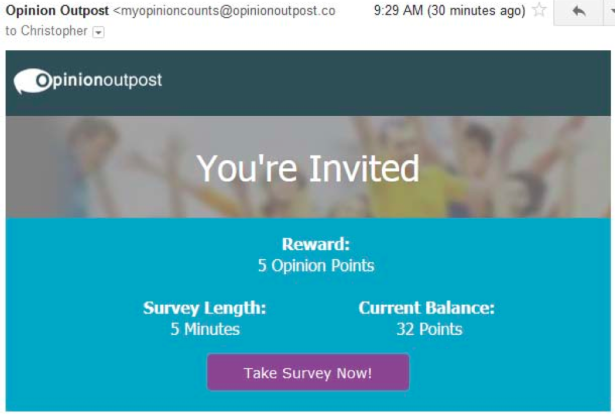 And as you can see from my notes below, I usually finished the surveys well below the estimated time for the surveys. While reviewing this site, I took a bunch of short 5 point surveys, but I found that the 15 point and higher surveys offered the most value for my time, and often times were the ones that I finished quickest compared to their estimated times.
Overall Opinion Outpost Review Assessment: Should You Join?
Yes.
Sign up for Opinion Outpost here. 
Since doing the surveys emailed to me turned out to be the most valuable use of my time, I recommend signing up for other survey companies so once you finished those surveys, you can jump to another website and keep on working towards payouts. Check out the other companies I use, and which ones I like best here.
Do you have any questions about Opinion Outpost or anything you'd like to add to the review? Let me know in the comments!
Advertiser Disclosure: We get a commission for some of the links on the blog. The opinions expressed here are the author's alone, and have not been reviewed, approved or endorsed by our partners.