Update: CashCrate is closing down March 31st, 2019. I now recommend PrizeRebel instead which you can join for free here. Read my full Prize Rebel review here. My original review will remain live to help people searching for CashCrate to find another alternative.

CashCrate is an online survey and offer completion website. Before I dive into the specific aspects of what I like and don't like in my CashCrate review, I'd like to answer the most important question first:
Can you make money with CashCrate?
Yes. Sign up for CashCrate here.
Income Proof – My CashCrate Earnings: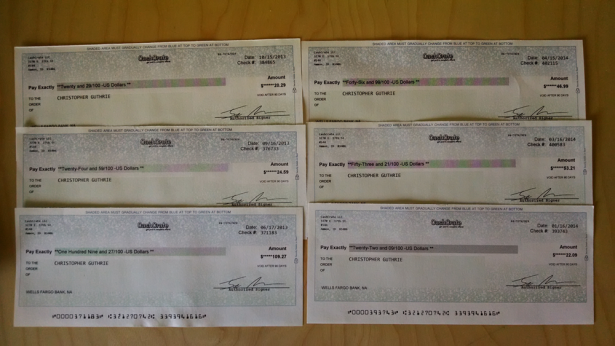 I only write reviews for companies once I've actually tried out and been paid. That way you know that the review as based on my actual experience.
Bonus: If you'd like to get free survey taking tips and a list of my top recommended survey companies be sure to subscribe here. Let's continue on to my top tips for earning the most from CashCrate.
How To Make The Most Money From CashCrate – In Depth Review

I like to start my reviews off by covering the basics which include the sign up process, payout minimum and more. After that I'll get to the good stuff which outlines how I make the most money using CashCrate.
Sign Up Process: To join CashCrate you click this link and then enter your personal information including your name, email (always use a spare email address), password and address. After that, you take a brief profile survey for your first 25 cents and then you're on your way.
Payout Minimum: You need a $20 minimum to cash out which is paid via paper check on the 15th of the month and the checks should arrive by the 24th of the month. So in the below example I was emailed on the 1st of the month about my check for $46.99 which I got later that month:


Survey Invite Rate: You can expect to receive 2 to 3 emails a day inviting you to a specific survey; however, there are roughly two dozen surveys available within the CashCrate website that you can take. I'll get to this a little later, but with CashCrate I actually preferred doing the free offers that were available on their website instead.
My Personal Survey Qualification Percentage: I qualified for roughly 80% of the surveys I attempted. CashCrate was one of the first companies I tried before I started logging every single survey I attempted. One thing to remember is that you'll never qualify for every survey you try to take.
How To Make Money With CashCrate
CashCrate is unique in that they offer a variety of different ways to earn money on their website besides just surveys:

Let's start with my favorite method on CashCrate.
1. Offers Tab:
Most of my initial money with CashCrate was earned by taking free and paid offers. On the offers page CashCrate makes the distinction between free offers and paid offers by denoting a "$" icon next to the offer if it costs money. Free offers won't have an icon next to them.
1a Taking Free Offers:
These free offers are provided by companies that will pay you to sign up for their website to try their free service such as Credit Sesame:
Or you may sign up to receive coupons or recipes via email. The free offers vary but all you need to do is complete the requirements outlined in the text by the offer.
I recommend going to the offers tab and sorting by payout. Skip past the paid offers and then look for the highest paying free offers as well as the offers that look easy. I signed up for one company, got paid $2.40 and it took me less than 5 minutes to do it.
Most of my free offer money came from signing up for companies that took only a few minutes to sign up.
When you first sign up for CashCrate sorting through top paying offers should be your first step – it's exactly what I did in the beginning.
1b. Taking Paid Offers
The highest paying offers on CashCrate are the offers that cost money to claim. Naturally they can afford to pay you more money if you have to pay money first.
Warning: Most of the paid offers are monthly recurring payments and most often you need to pay for at least one month of service or CashCrate won't pay you.
Here's an example of a paid service I signed up for and got paid $12 to try out:
I paid $5.99 for one month and got paid $12 to try the service out. Net gain of $6 for less than 5 minutes of effort (I later canceled after one month via the web interface didn't even need to call in).
In my case, I signed up for GameFly because I play video games and there was a $60 video game I wanted to play that I knew from reading reviews was an amazing game (Dishonored), but it only took about 15 hours to beat. So rather than pay full price for a short game I tried out GameFly for one month then I canceled and I was able to play a game I would have otherwise bought.
Ultimately because I was in the "research" process of writing this review I signed up for a few other paid services just to see if any of them would try to make it difficult for me to cancel later but I didn't run into any problems. If you stick to well known company names there isn't much risk at all so if you quickly scan for something you might need anyway then you can make some extra money that way.
Another good example would be this offer for GoDaddy. If you've never purchased a domain name and wanted to you can essentially get paid just to buy a domain name:

So there are some one time payment paid offers that you can more money from than they cost just make sure you cancel after the first month if you don't want to use the service.
2. Surveys Tab:
This is where you can take surveys using CashCrate. The difference between CashCrate and other survey companies is that CashCrate isn't a survey company first and foremost – so the surveys CashCrate offers are done via a partnership with another company.
The problem with this strategy? Lower survey earnings (in my experience)
I found I would get paid more for taking surveys directly from companies like iPsos, Opinion Outpost or some of the other survey companies I've tried out.
So ultimately while I did take some surveys with CashCrate to try them out, I found the most success with offers.
3. Top Surveys Tab:
This section is similar to the surveys section but they appear to be pulling in a feed of surveys from a third party company.
I had to fill out a profile to see these surveys at first. Ultimately, these surveys weren't as high paying as some of the surveys found with other companies I tried so I'd suggest not spending time doing surveys in this section either.
4. Referrals Tab:
CashCrate has a two tier referral system with multiple different levels and payouts for each of those levels. The starting level pays 20% of offer earnings and then 10% of the second tier offer earnings as well. So if you refer someone and then they refer someone you can earn money from their referral as well which is pretty cool. There are other bonuses like $3 when you referral makes their first $10.
See the full referral system details here after you sign up for CashCrate
5. Videos Tab:
This is a section where you can play a video and get paid 2 cents. It's a video for an advertisement and based on the time it takes as well as the payout, it's not worth it. I watched some videos for purposes of this review but I'd recommend not spending the time in this section.
6. Bonus Surveys:
This is yet a third section where you can take more surveys. Of the three survey tabs, the first "Surveys" tab is the best of the three with Top Surveys and Bonus Surveys being on the bottom not worth doing. So again, don't bother with surveys here use a company like iPsos, Opinion Outpost or others.
7. Bonus Offers:
The bonus offers tab in CashCrate is again likely provided via a feed from another service. If you've been reading through this entire review then you're likely thinking that I'm about to tell you that you shouldn't bother with this section – wrong.
The "Bonus Offers" area interestingly sometimes has the same offers available under the "Offers" tab, but at a higher payout.
The reverse is also true sometimes as well where the payouts under the "Offers" tab are higher than those under the "Bonus Offers" tab.
So again, I'd suggest sorting through the top paying offers and then scrolling through both the "Offers" tab as well as the "Bonus Offers" tab. If you find a company you'd like to sign up with for free (or a paid offer) you can potentially earn more money depending on which section you sign up with. This may change in the future of course though but it's worth checking.
8. Cash Tasks Tab
I'd avoid this section as well. It's a really low paying job system where you get paid 5 cents or less to do some work – completely not worth it.
9. Shopping Tab – No Longer There
There used to be a shopping tab. I'll update my review to reflect the addition of the shopping tab if it comes back. Basically you'd get money back when you purchased stuff you were planning on buying anyway. There are other services that do this that I'll review that are better.
Overall CashCrate Assessment: Should You Join?
Update: CashCrate had a great run and I previously did recommend CashCrate but they are closing down on March 31st, 2019. I now recommend PrizeRebel instead which you can join for free here. Read my full Prize Rebel review here.
I'd also recommend signing up for other survey companies to actually complete surveys as well.
Advertiser Disclosure: We get a commission for some of the links on the blog. The opinions expressed here are the author's alone, and have not been reviewed, approved or endorsed by our partners.