So in this section, I will explain how you can Swagbucks everyday to earn a ton of Swagbucks. I have broken it down into the steps you should follow from getting to swagbucks.com to small things you can do throughout your day to continue making Swagbucks.
To see my in-depth Review on if Swagbucks is legit or not, here it is:
Is Swagbucks Legit? My Swagbucks Review
If you haven't read my guide on the best way to sign up for Swagbucks then you better do so. You will learn the secret to earning an extra $13 each month simply by signing up for the right things.
6 Tips to Get the Most Swagbucks When Signing Up
Now that you have signed up correctly and already have a good amount of Swagbucks going, lets me show you how to make the most everyday.

1st – SBTV
As long as you are going to be using swagbucks.com to earn money, you might as well plugin your phone or iPod touch and turn on SBTV. There's no reason to ignore the bonus SBs you get from having that running.
Also, SBTV does have a lot of movie trailers on it. So if you want to check out the latest trailers, you might as well do it through SBTV. Who doesn't want to earn money for doing something they would already be doing?
2nd – Use Swagbucks Search
If you followed my advice, you should have the Swagbucks Toolbar/Extension set up. Now, you should develop the habit of only accessing searches and websites through the search feature in the toolbar/extension.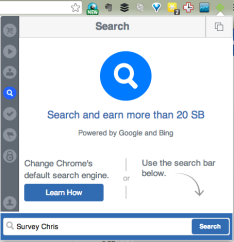 This may add an extra second to your time of getting to a site, but that extra second will earn you money in the long run. Search doesn't give you points every time you use it, but you will win up to 20 SB periodically. That is for doing something you'd already be doing anyways, so I count that as a bonus in my book.
So use the Swagbucks search to head over to swagbucks.com to begin your daily earning.
3rd – Swagbucks Watch
First thing you should do when you get to the site is to turn on Swagbucks Watch, which I explained above. Just check it every couple minutes to continue playing videos and earning money.
4th – Daily Poll and NOSO
The Daily Poll and NOSO are a really quick way to earn a few Swagbucks. Although the payout is low, you have to remember that the little things add up. Especially with all the bonus features turned on.
Since they are so quick, I like to just bust them out when I first get on the site.
5th – Check Your Swagbucks Inbox and Personal Email Inbox
Rather than starting out by searching around the site looking for good deals, Swagbucks is pretty good about sending offers or surveys tailored to you to your Swagbucks inbox and your email inbox.
Look for big payout surveys or offers and complete those first.
6th – Swagbucks Offers
Swagbucks offers are how I earn the bulk of my Swagbucks. You can find them under the "Discover" Section or on the front page of your dashboard. It is pretty easy to find paid offers that you end up coming out on top with.
Make sure to do the math first on paid offers.
The best offers are ones that cost you money upfront, but then the Swagbucks you earn are more than what you paid. My best return so far was spending $5 to earn 880 SB, which is about $8.80. That is a $3.80 return on a minute of work, since signing up for paid offers is super quick.
To make this even better, I would recommend getting Last Pass. I have my information saved in it, so filling out forms takes only a second.
Make sure to read the details on the paid surveys and free trials. They after are reoccurring payments, so you should know when they are going to charge you again for the service. Set up a reminder in your phone and/or calendar to cancel the service before that time.
If you forget to cancel, you'll end up losing money on the deal, and nobody wants that.
7th – Swagbucks Surveys
Swagbucks has some high paying surveys, so that is where I will check after searching the site for offers. If you have filled out the Profile Surveys like I recommended, your screen out rate will be a lot lower for these surveys.
8th – Swagbucks Tasks
While the tasks are rather low paying, there are a few in there that offer 5-10 SB for only a few minutes of work. I only do Swagbucks tasks if I run out of offers and Surveys to do, which is rare. Usually by the time I have gone through steps 1-7, I have not only hit the daily goal, but made enough SBs to call it a day.
More Tips for Earning Swagbucks
So above is what I do routinely for earning Swagbucks. What I'll explain here is how to continue to earn Swagbucks everyday, but in a less routine fashion.
Swagbuck Codes
Swagbucks codes are random codes that Swagbucks published online. They are typically on their social media accounts or in the blog. If you have the Swagbucks Toolbar/Extension and the mobile app (with notifications enabled), you will never miss a Swagbuck code.
Those tools will tell you when a new Swagbuck Code is published and where to find it at. Simply go there, find it, and copy and paste it into the form to redeem it.
Swagbucks Mobile App
Swagbucks Mobile is a great way to earn Swagbucks everyday while on the go. On the app, you have access to the daily poll and offers to look for. If you are in the waiting room at the doctor's office or sitting on the bus, you can answer the poll or cruise the offers sections looking for good deals.
The app is pretty limited at this point, but with the growth of Swagbucks, I would be surprised if they didn't develop an app with almost the same features as you can get from the website.
Another feature on the app under discover is "Local". Local will give you tasks to do when you are out and about. Running to the corner store or going to the movies? Take a second to check the Local section to see if you can't earn some Swagbucks for doing something you would be doing anyways.
Swagbucks Coupons
Every time you plan on going to the grocery store, compare your grocery list to the coupons available on swagbucks.com. You get 10 SBs every time you use a coupon. This is a great deal. You can save money with the coupon, while earning Swagbucks. There's no reason not to do this every time you go to the store. Remember, it is the small things that add up.

Swagbucks Shopping
Swagbucks offers a portal for you to shop through, and they give you Swagbucks on every dollar spent. This is awesome if you already plan on buying something online. They will feature certain departments of certain stores through their shopping portal. For example, shoes from Amazon. It only takes a second to check if what you are planning to buy is available through Swagbucks shopping portal.
Since, you can buy through Amazon with them, that means you could use Swagbucks.com to earn Amazon gift cards, then use those gift cards.
The Best Way to Cash out with Swagbucks
Swagbucks has a ton of options for cashing out. But one thing that sometimes is overlooked is that cashing out with $5 Amazon gift cards is the most money for your Swagbucks. The $5 Amazon card is the only payout that has this savings aspect. 450 Swagbucks = $5 Amazon.
If you want to cash out with actual cash, that is completely understandable, and they offer Paypal. Paypal is my usual go-to, but since I use Amazon at least a few times a week, I enjoy saving the Swagbucks on it.
The reason I think $5 Amazon cards are overlooked is because some people don't see that bigger isn't better in this situation. The $25 Amazon gift card is 2,500 Swagbucks. Five $5 Amazon gift cards is only 2,250.
If you add up the savings on that, with the bonuses your getting (because you signed up the way I recommend) you will be pulling in a lot of extra Swagbucks over a month's period.
So there you have it, the best way for you to earn Swagbucks everyday. Remember that results will vary, depending on demographics they are looking for with surveys, tasks, etc., but these techniques are definitely better than just randomly going about earning Swagbucks.
If you haven't already, make sure you click here to join Swagbucks

Let me know what you think, if you have questions or if you have any tips to add!