Can You Make Money With Harris Poll Online?
Yes. Sign up for Harris Poll Online here.
Income Proof – My Harris Poll Online Earnings


I only write reviews for companies once I've actually tried them out and been paid. That way you know that the review is based on my actual experience.
Bonus: If you'd like to get free survey taking tips and a list of my top recommended survey companies be sure to subscribe here. Now, let's move onto how I make the most with Harris Poll Online
How To Make The Most Money From Harris Poll Online – In Depth Review
I always like to start out my in-depth reviews with covering the basics, such as restrictions, how to sign up, the payout minimums and all that good stuff. This way, you can quickly figure out if Harris Poll Online is for you.
Restrictions:
Location: Harris Poll Online works in a lot of countries, and all from one website. Here is a list of the countries that can participate.

Austria, Belgium, Canada, Denmark, Finland, France, Germany, Greece, Italy, Japan, Netherlands, Norway, Sweden, Switzerland, the U.K., and the U.S.

Age: You must be at least 13 years or older to participate
Sign Up Process: To sign up for Harris Poll Online, click this link, then simply fill out the information in the box, and confirm your email address. You'll be ready to go after that.
Payout Minimum: The payout minimum depends on what you are trying to get. As you can see from my earnings above, a $10 gift card costs 1,250 HIpoints.They offer gift cards to Amazon, restaurants, iTunes, Walmart and a few others, along with magazine subscriptions and airline miles.
However, they do not offer cash, like some of my other favorite survey sites do.
From my survey notes below, you can get a sense of how long it takes to get to 1,250 HIpoints, with each survey being worth 75-150 points.
My Personal Qualification Percentage: I qualified at roughly a 50% rate, which is below my rate on my other favorite sites. I was pleased that I did receive 15 HIpoints and an entry into their quartly $10,00 sweepstakes.
Also, it didn't take more than a couple minutes for me to be disqualified, and a couple times, I was disqualified so quickly, that getting 15 HIpoints for only 30 seconds of work was actually a better return on my time than some of the surveys I completed.
Survey Invite Rate: Harris Poll Online unfortunately only emails you 3 to 4 surveys each month. Along with this there are no surveys available in the dashboard of their website. This is a low amount of surveys to be invited to.
Is there a mobile app?: There is not a mobile app for Harris Poll, only the surveys sent to you in your email. Their website is also not very mobile friendly, so Harris Poll is not a great on-the-go survey site.
Sweepstake: Harris Poll Online does offer a sweepstake for $10,000 which they pull for quarterly. You get entered into with every survey you take, whether you qualify or not. This is a nice feature, but as I like to focus on getting a known return for my time, I don't redeem points for entries into the sweepstake.
The Best Way to Make Money With Harris Poll Online
Unfortunately, this section will be pretty short, because there is not much you can do to increase your ability to make money with Harris Poll Online. Since they only email you 3 to 4 surveys a month, and there are none available in the dashboard, it is a pretty straight forward system.
So lets get into my personal assessment of Harris Poll Online
Overall Assessment of Harris Poll Online
Pros
It is a legit company that pays out
It has a wide variety of payout options
You get rewarded when you don't qualify for a survey
A lot of countries can participate
Cons
They do not payout in cash
My qualification rate was low
The reward return for my time is lower than my favorite sites
There are no surveys available in the dashboard
Very low survey invite rate
No mobile app along with a website that isn't great on phones
You don't see the amount of points and time for a survey when you click on the link in your email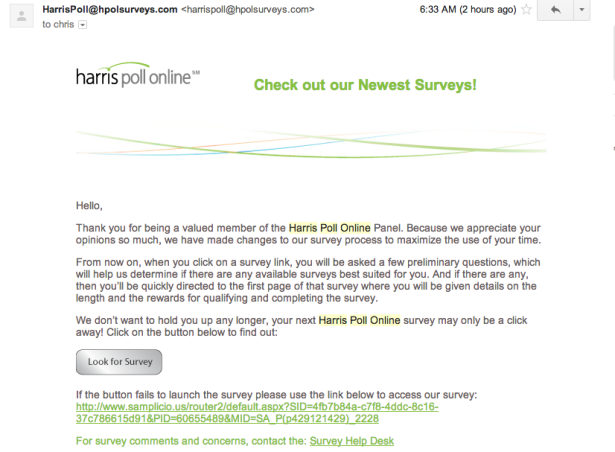 Conclusion
Harris Poll Online is a completely legitimate survey taking website. However, I do not recommend you use Harris Poll Online. The reward return for your time is lower than other survey sites that you should be using, which I have listed here.
Want to see my specific survey results?
Your results will likely vary, but I like to share them with you anyways:
Have you tried Harris Poll out? Let me know what you think in the comments below!
Advertiser Disclosure: We get a commission for some of the links on the blog. The opinions expressed here are the author's alone, and have not been reviewed, approved or endorsed by our partners.