E-Rewards is a survey panel website that has been operating since 1999. That is a long time for it to be running, but the questions still remains:
Can you make money with E-Rewards?

No. E-Rewards isn't exactly a scam, but in my opinion, it's not a good survey panel.
This E-Rewards review is slightly different then the other ones that I have done. I typically only review sites that I have personally tried and have been paid. However, there are a few restrictions with the E-Rewards survey panel that doesn't allow me to do that.
One of the restrictions is that E-Rewards is an invite only website, and I have not been invited. While normally I would wait for an invite, or just not review the site, I have noticed enough inquiries about the site to look into it.
What I found after looking into it made me feel confident that I could come to the conclusion that E-Rewards isn't a great site to be spending time on.
My Reasons for Avoiding E-Rewards
While E-Rewards isn't exactly a scam, they are a site that should be avoided in my opinion. To discuss this, I'll get into a list of the pros and cons of the site, then an overall conclusion.
I do want you to know that I have look at reviews of the panel from the last couple years from actual users, along with their parent company and their BBB profile. So while I haven't personally haven't tried it, I have second hand accounts of those who have.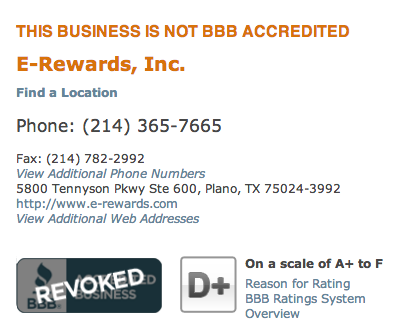 This may mean that this is not a definitive answer on E-Rewards, but there are certainly some telling signs.
E-Reward Pros
They actually provide surveys and rewards
It is possible to get surveys that pay above the industry standard
E-Reward Cons
They have a poor rewards selection

No PayPal, check, or Visa

Their payout minimum is $60
Their individual survey payouts very misleading

It takes about $60 to get a $25 gift card. This means that every dollar you get for the survey is actually worth about $.41

Their payout for screening you out is misleading

If you take the same math as above, you get paid $.10 even though they say $.25

The majority of user reviews are negative

They talk of being screened out after 20-30 minutes of questions
Rarely qualifying for any surveys

The screening process and actual survey are blended

This means you don't actually know how long you'll be taking the survey for, which is something I never recommend.

Their BBB profile score is a D+

This is a pretty poor score. It is because there were 137 complaints against the company and their BBB accreditation was revoked because they failed to honor its accreditation with BBB
Conclusion
While E-Rewards has had a few positive reviews, the majority of my investigation on the website certainly pointed towards negative. Since there are some positive reviews, I am not claiming this to be definitive.
If you would like to give them a try, you can search the internet for an invitation, since only their partner programs can invite you.
My thoughts on E-Rewards is that they have had a lot of complaints about them, the majority of their users are not happy with them, you can't cash out with PayPal, the screening out process seems a little uncertain, and overall they don't pay out great.
Also, you have to search the internet to find a way to sign up or wait to be invited by a partner program. With all these negative factors, I personally recommend spending your time on sites that are truly legitimate, pay out high, and you can get cash with.
If you are interested in sites like that, here is the list of my top recommended sites:
If you have any further questions about E-Rewards, or would like to add to the conversation, please leave a comment below.
Advertiser Disclosure: We get a commission for some of the links on the blog. The opinions expressed here are the author's alone, and have not been reviewed, approved or endorsed by our partners.