If you've read through any of the articles on this site, you're sure to have heard of PaidViewpoint before, as it usually tops a lot of our lists. It's definitely in the top 5 survey companies for me, but there's also a few things you should know about it, which I get into below.
But the question you probably want to know off the bat is if PaidViewpoint is legit or a scam.
Can you make money with PaidViewpoint?
Yes. Sign up for PaidViewpoint Here!
Income Proof – My PaidViewpoint Earnings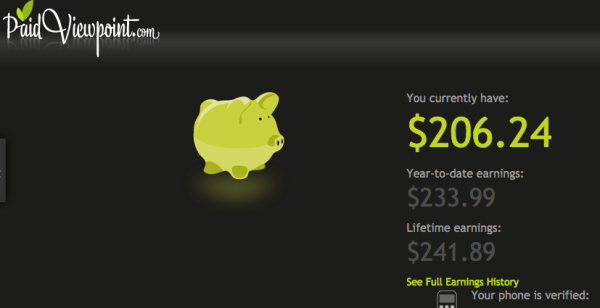 Join PaidViewpoint Here
I only write reviews for companies once I've actually tried them out and been paid. That way you know that the review is based on my actual experience.
Bonus: If you'd like to get free survey taking tips and a list of my top recommended survey companies be sure to subscribe here.
How To Make The Most Money From PaidViewpoint – In Depth Review
I like to start off all my reviews with the basics, like who can sign up, how to sign up and that sort of stuff. After that I'll cover more on actually making money with PaidViewpoint.
Restrictions: 
Location: PaidViewpoint works for anyone in the world, which is why I've written about it so much.
Age: You can sign up for PaidViewpoint as long as you are 13 years or older.
Sign Up Process: Joining PaidViewpoint is really easy. Simply click this link, sign in with your email address or via Facebook, Twitter or the other options and click next.
You'll then answer a few questions that allow PaidViewpoint to get to know you better, which you will get paid for!
Payout Minimum: There is a $15 account minimum to cash out. This is not too bad as far as the industry goes, but it is a little higher than I prefer.
This is also a reason that I always recommend using multiple survey companies, so you aren't reliant on just one company for income.
My Personal Survey Qualification Percentage: This is one thing I really like about PaidViewpoint, is that you don't have to answer questions, only to be denied by that survey.
PaidViewpoint is definitely the best company I've used that actually learns more and more about you so that they only send you surveys that you qualify for. This is what the TraitScore measures, which I'll cover more below.

Survey Invite Rate: You get at least one survey a day, but most of the time these are lower paying TraitScore surveys. These ones you earn between $0.03 and $0.10. This would be a major con, if the daily surveys didn't take only a minute or two, and add to your TraitScore.
The higher your TraitScore, the more surveys you get and the more you get paid.
You will get a daily email about your surveys, but you can also just log in daily, knowing there will be a survey for you.
Is there a mobile app?: No. This is a company you'll have to be on your computer to use.
The Best Way to Make Money with PaidViewpoint
The best way to use PaidViewpoint is by putting in a little bit of time each day. The reason for this is because of PaidViewpoint's TraitScore.
The TraitScore is basically how well PaidViewpoint knows you. There are a few reasons why this is important. The better they know you, the better they know what surveys to send you. This is a huge time saver, as you may know, many survey companies don't actually get to know you, so you have to take qualifying surveys before each survey and may get denied often.
Survey qualification is something that I make sure to address in every review I do, but I don't have to in this one!
So to get the most money from PaidViewpoint, you need to build up your TraitScore, which you can do everyday, and it only takes a couple minutes. You get at least one survey a day from PaidViewpoint, but most of them are TraitScore ones.
You do get paid for TraitScore surveys, but not much. Luckily I think I finish most of them in less than 2 minutes.

While you'll make more money and get more surveys as your TraitScore grows, the real goal is to get up to a score of 9,000. That's when you've reached the top!
Once you are there, you get their maximum amount of surveys, along with get paid more for every click.
The reason they pay you more and give you more surveys is because they know you are the exact demographic they are looking for. This precision is a huge benefit for both parties, the companies that need info and us, the survey takers!
PaidViewpoint Referral Program
On top of being a great survey company, they also have a really good referral program. You can make $25 for every friend you invite to participate!
You'll get paid 20% of everything they make – you don't take 20% away from them, it's just a bonus you get from PaidViewpoint.
It's really easy to get going, you just click on the friend's tab, then you have 3 ways to invite people.
Easily invite your friends via social media
Create a quick email to send out
Create a referral link to give directly to people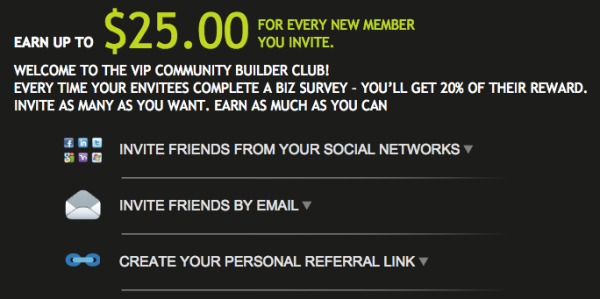 And once you invite enough people, you can become a "community builder", so that you get the 20% bonus every time your friends earn money, not just when they cash out.
As you can see, there are a few reasons why I'm such a big fan of PaidViewpoint.
Overall PaidViewpoint Review Assessment: Should You Join?
Yes.
Sign up for PaidViewpoint here.
PaidViewpoint is definitely one of the more legit survey companies you can join. So although it starts out slow, you can literally spend 1 to 2 minutes a day for the first few weeks and eventually work your way up to making a good amount of money with PaidViewpoint.
On top of that, they don't waste your time with surveys you don't qualify for, it is a well laid out and easy to use site, and their referral program is really good.
Have you used PaidViewpoint or have any questions? Let me know in the comments!
Advertiser Disclosure: We get a commission for some of the links on the blog. The opinions expressed here are the author's alone, and have not been reviewed, approved or endorsed by our partners.