I have mentioned PineCone Research quite a few times throughout this website. But only know have I gone in and dug deep into whether or not PineCone Research is a legitimate survey panel or a scam you should avoid.
Let's get to the heart of the post first.
Can You Make Money With PineCone Research
Yes. Sign up for PineCone Research Here

*Disclosure:  Right here in my reviews is where I typically tell you I only write reviews about websites that I have personally used either until I cash out, or figure out that the website is not a legit site. However, I am making an exception for PineCone Research that I believe you will appreciate.

I haven't used PineCone Research, but that isn't from a lack of trying. 
If you read my post of the 3 most exclusive survey panels, you'd see PineCone Research is in there. I have tried multiple times to sign up for PineCone Research, and will continue trying periodically. 
They are exclusive, and for good reason. They are completely legit, pay out in cash very quickly, and have great product testings. I'll cover all that more, but the point of me bringing it up here is that PineCone Research, because they are one of the best survey companies out there now, are able to be very selective in who they pick.
They have you fill out your profile before you sign up, and then will determine if they accept you or not. You can search around the internet for what kind of profile they are taking, but that won't help. They adjust depending on what the demographics of their current users are, or if they get a new client who needs to reach a specific demographic.
If I were you, I would bookmark their invitation page (you can't reach it unless you have a specific link, which I have gotten for you), and I would try periodically to sign up, if you don't get it the first time.
Users on this blog have been accepted multiple times, so it is very possible.
If you do get accepted, just know I am jealous of you.
Now, back to the review.

Bonus: If you'd like to get free survey taking tips and a list of my top recommended survey companies be sure to subscribe here. Let's continue on to my top tips for earning the most from iPoll.

Who is PineCone Research Ran By?
PineCone Research is ran by Nielsen a market research company based out of New York.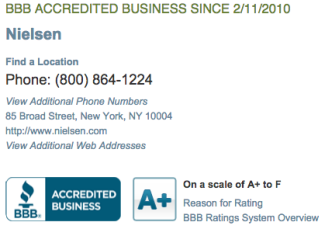 Often times, a good place to check how legitimate survey panel is, is to check who the market research firm is behind them, and check out their Better Business Bureau's (BBB) profile.
Nielsen is obviously doing things right with their A+ rating. Seeing that they are their address listed with contact info makes me feel even better about using their survey panel. 
Along with a stellar BBB profile, Nielsen is also a member of Casro, which is an association for market research companies. Here is there member page. 
Not often times will I look this deep into a company, but since I personally haven't used PineCone Research, I didn't want to leave any rock unturned for the sake of you getting the best review possible. 
So PineCone Research is backed by a legitimate market research company. However, that doesn't mean they are worth your time. There's a difference between legitimate and good when it comes to survey panels. 
With that in mind, let's move on to what you can expect to see if you get accepted into PineCone Research.
What Can You Expect as a Member?
Survey Rate: The survey rate for PineCone research appears to be lower than average at first glance. But when looking into a little deeper and comparing it to other companies, it's actually really good.
While you may get emailed less surveys than other companies, since PineCone Research knows your demographic, they only send you surveys that you qualify for. This is different than other companies who send you every survey they have, but first you have to take a profiler survey first, and may not actually get to take the survey because you don't qualify.
I really like this aspect of PineCone Research. I personally would rather like to get emailed less, but at the same time, spend less time filling out profile surveys and being disqualified.
Payouts: The payouts for PineCone Research are most of the reason I am writing this review for you without using the company. You get $3 for every survey starting out, but depending on how long you've been on the site, you will eventually start to make more money per survey.
For every survey you fill out, you are closer towards your next "pay raise". You max out at $5, but getting a guaranteed $5 per survey is a really good deal.
What else is great about PineCone Research payouts is that they typically get the payment processed between 24 and 48 hours. You can get cash by direct bank transfer or check, which are usually the best options in my opinion.
Product Testing: Another cool thing that PineCone Research does, and another reason they are exclusive is that they do product testing. Companies that do product testing have to be more secure about who their members are since they are literally mailing you free stuff to use and tryout. 
If you take surveys for PineCone Research, sometimes the client behind the survey wants you to have a chance to test out the product the survey was about. Sometimes you won't even be notified you were selected and the product will just show up randomly at your house with instructions.
Contests: PineCone Research also holds bi-weekly contests for $500. Every survey you complete gets you an automatic entry into the contests. So not only does doing more surveys get you into a higher pay scale, it also gets you more chances to win $500 every two weeks.
Mobile App: Unfortunately PineCone Research doesn't have a mobile app. I'm always looking for good survey companies with apps so that I can make money on the go. 
I've collected my list of the best ones here: The Best Survey Panel Apps
So now that you have an idea of what to expect with your membership, let's look at the overall pros and cons to PineCone Research. These are coming straight from the mouths of current users.

What Are Current Users Saying About PineCone Research
Pros
Legit survey panel, backed by a well established market research firm
Pays well per survey
Gets better the more you use it
$500 contests
Product testing available
Cash Payouts
Prompt payments

Cons
No mobile app
They are very exclusive (this is actually a pro and a con)

Conclusion
You can probably guess the conclusion of this review. PineCone research is a great company to be apart of. If you get a membership, take as many surveys with them as possible so you get to the higher pay scale and increase your chances of a $500 cash prize.

Should You Join PineCone Research?
Yes.
If you're 18 – 24 year old male use this link to join: Join PineCone Research
If you are an 18-34 year old and based in the UK join with this link: Join PineCone Research
If you don't match the above demographic, use this link Sign up here for PineCone Research
Consider signing up for Nielsen as well just in case you can't get into PineCone Research.
Are you in PineCone Research and can add to the review? Let us know in the comments!
Advertiser Disclosure: We get a commission for some of the links on the blog. The opinions expressed here are the author's alone, and have not been reviewed, approved or endorsed by our partners.